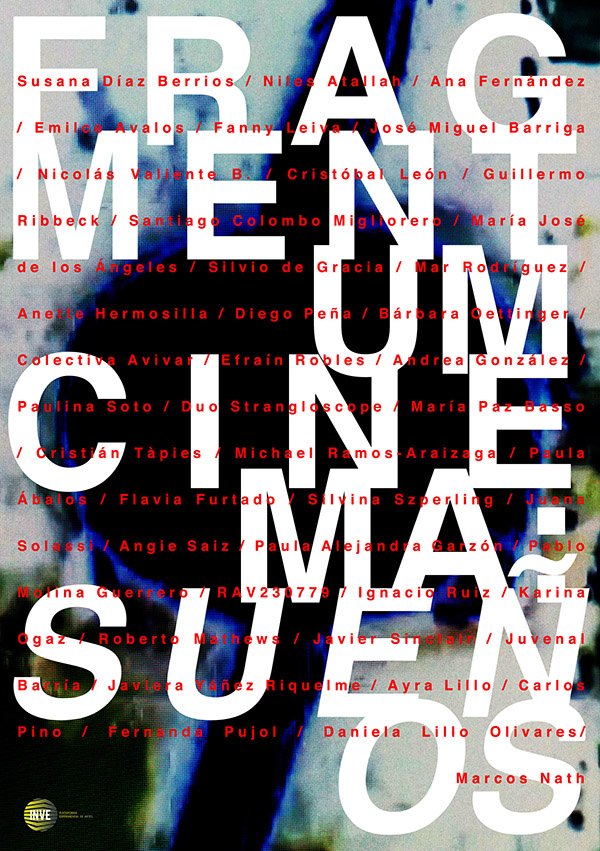 FRAGMENTUM CINEMA: SUEÑOS
FRAGMENTUM CINEMA: Dreams
—————————————–
FrancescaSusana Díaz Berrios / Niles Atallah / Ana Fernández / Emilce Avalos / Fanny Leiva / José Miguel Barriga / Nicolás Valiente B. / Cristóbal León / Guillermo Ribbeck / Santiago Colombo Migliorero / María José de los Ángeles / Silvio de Gracia / Mar Rodríguez & Anette Hermosilla / Diego Peña / Bárbara Oettinger / Colectiva Avivar / Efraín Robles / Andrea González / Paulina Soto / Duo Strangloscope / María Paz Basso / Cristián Tàpies / Michael Ramos-Araizaga / Paula Ábalos / Flavia Furtado / Silvina Szperling / Juana Solassi / Angie Saiz / Paula Alejandra Garzón / Pablo Molina Guerrero / RAV230779 / Ignacio Ruiz / Karina Ogaz / Roberto Mathews / Javier Sinclair / Juvenal Barría / Javiera Yáñez Riquelme / Ayra Lillo / Carlos Pino / Fernanda Pujol / Daniela Lillo Olivares / Marcos Nath
Organizado por INVE, Plataforma Experimental de Artes (Chile)
—————————————–
42 independent short films from each other, linked only through the dream concept, as each author decided to decipher that concept. Fragmentum Cinema: Sueños, is a panorama and an anthology of the work of various Latin American authors.
ABOUT THE PROJECT
The beginning of the project Fragmentum Cinema: Sueños, was to celebrate our sixth version of the Proceso de Error Festival. To do this, we decided to organize this kind of collective feature film, inviting authors with whom we had established various relationships over the years, either through the Festival, workshops and/or residencies that we held, who through their patience and love for cinema decided accept and participate in the film.
Each piece is completely independent but it was proposed to all of them that in this version they work under the concept of dreams, we believe that the ambiguity of the term is a starting point that encourages creation. On the other hand, we believe that collective feature films allow us to give an idea of ​​what happens here and now, they give us a way of estimating the diversity of artists who work under the same concept. 43 directors, 42 works.